Basic Field Test Kit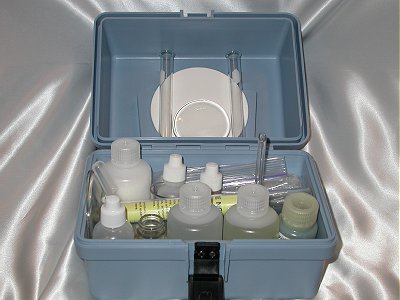 $47.95
To order, please CLICK HERE to go to our Products Page
Basic Field Test Kit -- Allows you to test ores, slags and wastes yourself. Check for micron gold in sand and precious metals in carboneous complexes. See the Qualitative Results in a short time. Every metal has it's own discernable color and this kit allows you to see most of them for yourself. Don't spend money on questionable assays until you have determined if there is any real value in your material. You can do well over 200 separate tests with this kit, and refills are readily available.

Contains:
2 different leach formulations--125 ml each
60 ml bottle of citric acid - anhydrous - for mixing your own pre-wash
60 ml bottle of leach additive mix--for boosting the leach aggressiveness
60 ml bottle of "iron oxidizer". A "sand" type material that removes iron from pregnant ("loaded leach") solution in some ores.
1 funnel
1 25 ml graduated beaker
2 test tubes
1 mixing bottle
1 "eye dropper"
10 paper filters
1 watch glass
1 "drop bottle"-for dispensing the leach

Includes instructions and basic color chart.

This is a REAL FIELD KIT in a sturdy synthetic case. Compare with others available at similar prices!
Professional Test Kit
Prepare, Digest, Remove Iron, Precipitate, and Collect Gold with oil. Works for Gold, Platinum and Paladium without a furnace. Includes CDE 2 & CDE 3 leaches, iron oxidizer, gold collector, metals precipitator, citric prewash, test tubes, beakers, instructions and much more.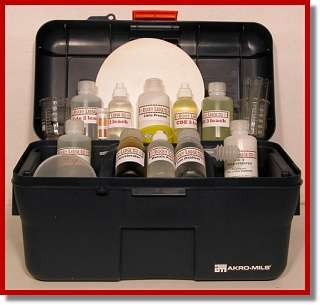 $99.00
To order, please CLICK HERE to go to our Products Page